Puglia
Puglia, also known as Apulia, is in the south of Italy; the heel of Italy's boot. The region is not one of Italy's traditional tourist destinations, but has become increasingly popular as travellers discover the area's varied charms: baroque towns, white-washed trullo houses, olive groves and orchards, blue sea and beaches, plenty of sunshine and excellent cuisine.
Don't expect noisy nightclubs, all day breakfasts, fish and chips or roast dinners here. This is not Ibitha or Tenerife or any other well known tourist hot spot. This is the real Italy – where Italians like to holiday. Here you will find acres of peaceful olive groves, sandy beaches, rocky coastlines, amazing architecture, years of history, gastronimic experiences, from the simple trattoria to the "Sagre" (food festivals) with their excellent food and wine.
We have gathered together information about our beloved la bella Puglia to help you plan and enjoy your holiday. From beaches up and down both coastlines, sleepy villages, historic city centres and towns, places of interest and much much more.
Places of interest and day trips
Due to central position and transportation links Bari is highly recommended as the place where you should be basing on if you plan daily excursions around in Puglia. Here is our selection:
Alberobello – UNESCO World Heritage site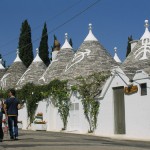 Puglia's most striking tourist attraction - because it is so unique - is the trulli district, around Alberobello. A trullo is a simple dry-stone-walled building with a domed roof topped by a cone. They are dotted around the green Valle d'Itria, and in Alberobello the town's large clusters of white-washed trulli create an unusual and memorable scene. It makes an interesting day-trip destination.
Bari – the region's capital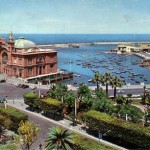 Bari is a city on the Adriatic coast; the capital of the Italian region of Puglia. It does have an airport with budget flights from the UK, and as well as having a few sights of interest it is well-placed for exploring this attractive part of Italy.
Bisceglie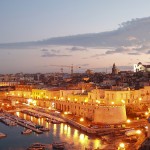 Famous for the beauty of its coastline interspersed with coves and limpid sea, it was awarded the Bandiera Blu (the "blue flag") in 2006. Other tourist attractions include its archaeological relics of global importance and more recent architectural evidence.
Polignano
Polignano is situated on a steep rocky cliff overlooking the Adriatic Sea. The cliffs contain a number of natural caves which were inhabited in prehistoric times. During the Middle Ages the city was fortified. Today the beautifully preserved historical centre is made of a series of alleyways that lead to terraces with breathtaking views over the Adriatic Sea. Don't forget to try a local ice cream at the "Mago del gelato" (situated in front of the main entrance of the old town).
Matera – UNESCO World Heritage site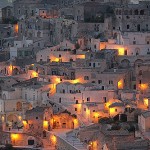 Matera is one of the most interesting, unusual and memorable tourist destinations in Italy it is a town famous for its extensive cave-dwelling districts, the sassi. The caves of Matera had been inhabited for centuries; the abandoned caves of Matera are fascinating reminders of the past. In 1993 the town was made a UNESCO World Heritage site, for being "the most outstanding, intact example of a troglodyte settlement in the Mediterranean region, perfectly adapted to its terrain and ecosystem". You can take guided tours of the sassi and visit historic reconstructions of cave life. Matera was the one of the filming locations for Mel Gibson's film The Passion of the Christ, with shots showing the sassi and the gorge below.
Martina Franca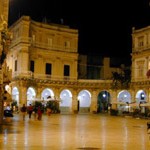 The town's jewel is its lovely historic centre, a memorable maze of winding alleys, where whitewashed simplicity sits side by side with baroque extravagance. The town is built on a hill in the green Valle d'Itria, the trulli area of Puglia, and it makes a good day trip if you are exploring the region. Martina Franca is an incredibly photogenic town, so come equipped to take lots of pictures: the narrow lanes that are so hard to photograph well in other Italian cities are here illuminated by whitewashed walls, pale stone and tiny open spaces.
Locorotondo – for wine tasting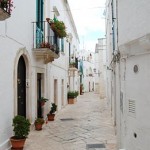 Locorotondo is a small town in the region of Puglia in southern Italy. It is situated between Martina Franca and Alberobello in the Valle d'Itria, a green stretch of countryside dotted with the famous whitewashed cone-roofed trulli houses. It is officially one of the Borghi più belli d'Italia, (the most beautiful villages in Italy). As well as its picturesque appearance the town is also known for its wine production. If you love discovering and tasting wines, then you will be spoiled for choice of wine tasting tours.
Castel del Monte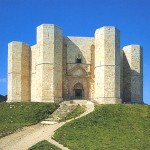 Castel del Monte is one of the many castles built in southern Italy in the thirteenth century by Frederick II, Holy Roman Emperor. It's seen as the greatest of his castles, and is a UNESCO World Heritage site. The castle looks like a crown, and in a sense that's probably what it is: a symbol of Frederick's status and power.
Castellana Grotte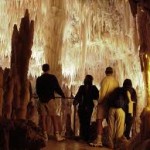 Castellana Grotte is wellknown for the big limestone caves (Grotte di Castellana) in its vicinity, which are among the largest in Europe. These grottoes were explored for the first time in January 1938. The series of underground karst caves were formed by rainwater which collected at surface level and easily penetrated the crevices in the limestone layer below. The winding course of these waters cut out caves and tunnels, and formed stalactites and stalagmites in great numbers. The lunar landscape, made up of crystalline columns and jagged points, glows and sparkles.
Trani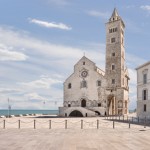 Trani is a historic fishing port in Puglia, southern Italy, between Bari and Barletta on the Adriatic coast. It's on Italy's mainline railway network so is easy to reach, and it's a lovely place to explore, wander or relax. The town is reminiscent of 1950s films set in old-fashioned seaside Italy: historic buildings fading with casual charm, boats in the harbour and sleepy dogs lazing in the midday sun by the waterfront.
Seaside resorts – for beach lovers
Along the Ionian coast, Campomarino, Porto Cesareo and Gallipoli are the most attractive seaside resorts in the Ionian coast, with picturesque old towns, exceptionally blue waters, and sandy beaches.
Campomarino (beach resort)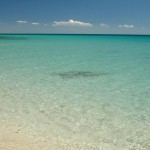 Il mare è splendido, tanto da essere conosciuto come "il mare dai sette colori". Le sue spiagge sono tra le più famose dell'intera regione. Tanto che l'estate si trasformano nel maggior polo di attrazione della zona, grazie all'enorme offerta turistica in grado di soddisfare tutti i gusti turistici.
Sagre
A sagra is a rural festival held in the open air with folk music, dancing and games. Mostly sagre are based around one or more culinary specialities, which can usually be sampled in the various booths. Food fairs date back to the days when farmers used to gather in towns to buy and sell produce. Today's celebrations are dictated by tradition, what is in season, and the town's whim; they reach a peak during the holiday season of July and August. You can find some of the upcoming Sagre in the panel on the right.
Pilgrimages
Many Catholic pilgrims head for San Giovanni Rotondo, the site associated with Padre Pio. Among other religious sites are the Church of St. Nicholas (Basilica di San Nicola) in Bari, where the remains of 'Santa Claus' lie in state in the crypt. For a different kind of pilgrimage, film lovers may be interested in a side-trip to Castellaneta, the birthplace of Rudolph Valentino. If you are touring by car you'll be able to visit the intriguing castles of Frederick II, including the enigmatic octagonal Castel del Monte, another World Heritage site.
Visiting Puglia: our advice
The best way to visit Puglia is by renting a car. This is quite a practical way to travel and means you can stop where you choose. But take a good road map and ask directions from the friendly locals when in doubt. Driving around is very easy and the roads are very good.

Share on Facebook